One of the unique things about our business model is we make our own product. Not only does that give us greater control over quality, it allows us to tweak designs from 70 years ago for today's consumer. In this instance, it is to offer two heights for our reproduction of the Barcelona Bench and Barcelona Daybed.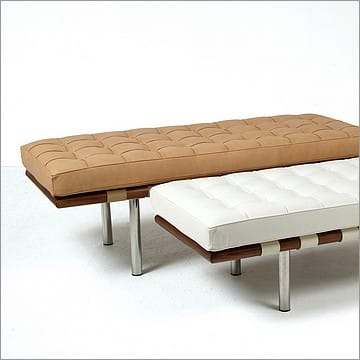 Mies Barcelona Bench Reproductions
Tall and Short
When Mies van der Rohe and Lilly Reich designed the Barcelona Bench and Daybed in 1930 for the Tugendhat House, they set the seat height to just under 15 inches. For most people today, that seems a little short for use at the end of a bed or a hallway bench, as 18 inches is more of a standard seat height.
So, because we make these in our own factory, we are able to offer
two heights
for our benches and daybeds, which we call the Bauhaus Exhibition Bench and Daybed. The standard height is 15 inches for those who wish to stick with the "original" design, and is a good match to the Barcelona Chair, or taller height of 18 inches. This picture shows a comparison of the two heights.
Besides getting a choice in seat height on our Barcelona Benches, there are some other really great features that can be found with our benches, such as solid hardwood frame, real cowhide belting that matches the leather color of the cushion, and a thick all leather wrapped cushion. Read our buyer's guide for
Mies Barcelona Bench Reproduction
or the
Mies Barcelona Daybed Reproduction
.